About CERL
Welcome to CERL, the Consortium of European Research Libraries. The Consortium's purpose is to share resources and expertise between research libraries with a view to improving access to, as well as exploitation and preservation of, the European printed heritage.
The Consortium was formed in 1992 on the initiative of research libraries in many European countries and legally came into being in June 1994. CERL's primary objective is to record all books printed in Europe during the hand-press period, c.1450–c.1830, in a machine-readable catalogue, called the Heritage of the Printed Book Database or HPB (originally called the Hand Press Book Database). Two other significant initiatives are the development of the CERL Thesaurus and the CERL Portal.
The diagram below shows all CERL activities and services, and their users.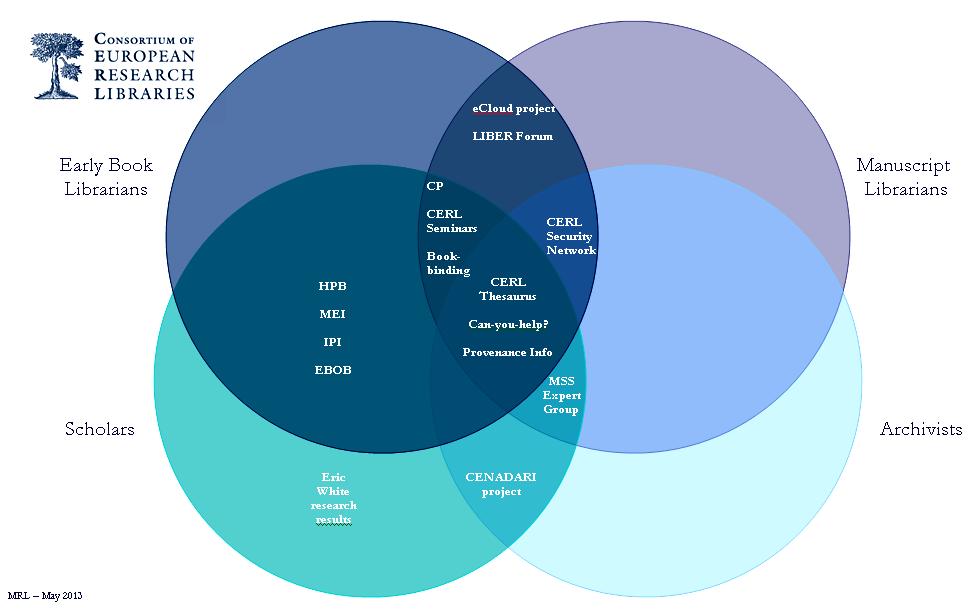 The Consortium is a company limited by guarantee under English law, Company No. 2942632.
Registered Office:
40 Bowling Green Lane
Clerkenwell
London EC1R 0NE
Telephone: +44 (0)20 7415 7134
Fax: +44 (0)20 7970 5643
Email: secretariat@cerl.org
about/main.txt · Last modified: 2013/05/23 15:50 by lefferts
---