This is an old revision of the document!
---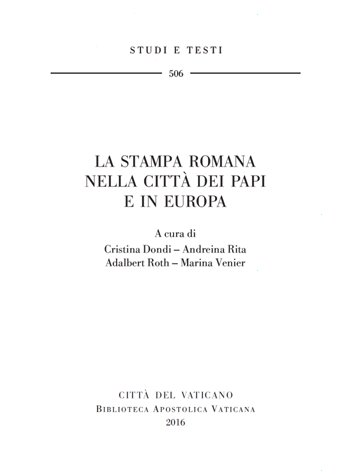 CERL Papers XII
La stampa romana nelle città dei papi e in Europa (Cristina Dondi, Andreina Rita, Adalbert Roth and Marian Venier, eds.). Papers presented on 11 November 2011 at the CERL Seminar hosted by the Biblioteca Apostolica Vaticana, Città del Vaticano.
Biblioteca Apostolica Vaticana, 2016.
ISBN 978-88-210-0970-9. [Nine papers in Italian, six in English and one in French.]
---
CERL papers XII can be downloaded here.
Order form.
---
Contents
Preface di Elmar Mittler e Ulf Göranson (CERL)
Address di Adalbert Roth (Biblioteca Apostolica Vaticana)
Concetta Bianca (Università di Firenze): Le strade della "sancta ars": la stampa e la curia a Roma nel XV secolo
Martin Davies (London): From Mainz to Subiaco Illumination of the first Italian printed books
Pasqualino Avigliano (Biblioteca Nazionale Centrale, Rome): Una modesta proposta per una (ipotetica) topografia della tipografia a Roma nel secolo XV
Andreina Rita (Biblioteca Apostolica Vaticana): La Vaticana di Sisto IV fra libri tipografici e libri manoscritti Ipotesi di ricerca
Laura Lalli (Biblioteca Apostolica Vaticana): Le collezioni degli incunaboli della Biblioteca Apostolica Vaticana e il progetto BAVIC
Bettina Wagner (Bayersiche Staatsbibliothek, München): Early Roman incunabula in the Bayerische Staatsbibliothek München and their owners
Tomasz Ososińki (National Library of Poland, Warsaw): The Roman incunables in the Polish National Library
Benedetta Cenni (Biblioteca Apostolica Vaticana): Gli incunaboli vaticani di Santa Maria del Popolo e il cardinale Jorge da Costa (1406-1508)
Francesca Schena (Biblioteca Apostolica Vaticana): Legni xilografici quattrocenteschi tra Venezia e Roma
Marina Venier (Biblioteca Nazionale Centrale, Rome): Topografia della tipografia (o meglio del libro) a Roma nel XVI secolo
Paolo Sachet (Warburg Institute, London) A humanist printer moves from Venice to Rome: the curial patronage of Paolo Manuzio
Julia Walworth (Merton College, University of Oxford): The Congregatio Concilii and a proposal for a Vatican press in the 1570s
Massimo Ceresa (Biblioteca Apostolica Vaticana): Gli stampati negli inventari cinquecenteschi della Vaticana
Ornella Denza – Claudia Leoncini (Instituto Centrale per il Catalogo Unico, Rome): Tipografi ed editori a Roma: risultanze e curiosità da EDIT16
Isabelle De Conihout (Bibliothèque Mazarine, Paris): Les quatre Grolier de Rome
Stephen Parkin (British Library, London): Notes on two collections of printed and manuscript material in the British Library relating to the Repubblica Romana of 1798-1799
publications/cerl_papers/cerl_papers_xii.1477315688.txt.gz · Last modified: 2016/10/24 15:28 by hart
---